Lurie Children's Hospital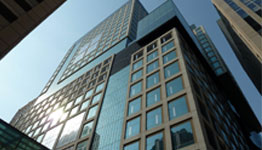 Children's Memorial Hospital of Chicago is one of the premier medical facilities in the country. It comes as no surprise that only the best partners would be invited to construct the hospital's new location, the Ann & Robert H. Lurie Children's Hospital of Chicago.
Located on the Northwestern University Feinberg School of Medicine campus in downtown Chicago, Lurie Children's Hospital began construction nearly years ago with groundbreaking in 2008. Xylem and manufacturer's representative, Bornquist Inc., were selected by the consulting engineer, Affiliated Engineers (AEI) and the mechanical contractor, FE Moran to be partners in the construction of the high profile, 23-story building.
Environmental impact also played a role in the hospital's choice of Xylem and Bornquist for this project. Because both companies are local, shipping logistics and transportation distances were minimal, helping the hospital to potentially qualify for future USGBC LEED certification. Xylem's high-efficiency products also keep pumping and water processes efficient, helping the building reduce overall carbon emissions. "Hospitals are some of the most complex structures that are constructed," said Dave Everhart, sales manager, Bornquist Inc. "Steam and water systems, disinfecting, HVAC systems, lighting, all must run 24/7, no matter what. Anything we can do to lower the hospital's carbon footprint is always incorporated in our plans."