Structural Metal Fabrication in Chicago, IL.
Waukegan Steel is known for working on some of the most high profile projects in the Chicago area, such as the renovation and expansion of Soldier Field, the Museum of Contemporary Art, University of Illinois at Chicago and some of the elevated train stations for the Chicago Transit Authority, Waukegan Steel continues to thrive as one of the most sought-after steel fabricators in the area.
Waukegan Steel was founded in 1929, as Ferro Steel. In it's first year, 10 tons of steel was fabricated and shipped, which hinted towards the bright future the company enjoys today.
Read more >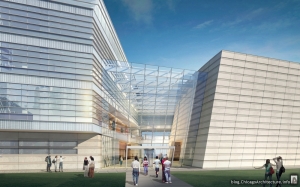 Waukegan Steel offers metal manufacturing and fabrication, delivery, and installation. We use the most advanced methods in steel fabrication technology to draft and produce plans, which gives our customers the freedom to implement any custom steel fabrication assembly for any project regardless of its size.
Our steel experts are qualified and certified. Strong and durable is our business. From structural steel, steel products, heavy or light complex structures, we love what we do and it shows.
Contact us at (847) 662-2810.
BIM: Technology at Your Fingertips
Building information modeling (BIM) is a computer-powered process involving the development and management of digital architecture. BIM increases design efficiency, cuts down on project time, and helps ensure project accuracy.
Have a Question?

Have a question about your upcoming project? Great! Our specialists love to help.